About Mountain West Animal Hospital
Mountain West Animal Hospital was established in 1977, and is the premier veterinary hospital for Springville and surrounding areas.
We provide preventative care, surgery, medicine, dentistry and reproductive services for a range of animals. In addition to veterinary care for household pets. Dr. Bott is uniquely qualified in theriogenology and his work in cervid and small ruminant reproduction has generated him international attention.
Dr. Isaac Bott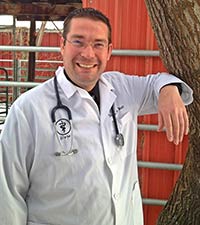 Dr. Bott is passionate about providing high-quality veterinary care in a safe, clean and friendly environment. He has extensive experience with reproductive services, and is currently the only veterinarian in the world who provides reproductive services for reindeer. In addition to managing Mountain West Animal Hospital with his wife, he also travels the globe offering training and reproductive services for pets and wildlife animals.
Dr. Bott currently serves on the board for the Society for Theriogenology.